Treks & Walking Tours:
This is a good year for trekking in Nepal – there will be fewer tourists and better services. Popular trekking routes are safer because of increased security and tourists will feel welcomed as never before following several years of depressed business.
Our custom treks are definitely unique and organized around festivals or special seasons, offering you more opportunity to observe life in rural villages and cross-cultural contact with people, and plenty of time for meditation on an isolated ridge with the Himalaya spread out before you.
Trekking is suitable for people with good health and basic walking skills. Unless noted in the itinerary our treks avoid dangerous trials and climbs. If you love to walk but feel reluctant to consider Himalayan treks just because of age or TV adventure programs showing harrowing mountain climbs, keep in mind our focus on independent travelers who want to set their own walking pace with personal guides. Special arrangements for families with small children can be made with porters to carry the children as necessary.
As compared to other trekking routes in Nepal, the Annapurna and Everest areas are well served by private lodges and most individual trekkers stay and eat in lodges as they trek from village to village. The variety of food is good and safe (including rice and lentils/vegetables, and some western preparations), but lodge rooms can be noisy because of thin walls and early morning risers. We can make arrangements for full service camping and avoid the lodges altogether, or with our own tents select a camping site outside the village using nearby lodges for food and other services but retain the privacy of camping, or use the lodges completely. As compared to full service trekking, lodge trekking is less costly because cooking staff and porters are reduced.
Camping in Nepal is a wonderful experience. The day begins with an early morning cup of tea or coffee served in your tent, followed by hot steamed towels followed by breakfast with good views. Lunch usually separates the morning and afternoon portions of the day's trek. You'll arrive at the evening campsite with hot tea waiting. As you relax, the tents will be set up, steamed towels distributed (or hot water for bathing) and the evening meal cooked and served. A combination of Nepali and Western foods are served, but excellent lentil soup, rice and vegetables are served daily. After dinner, you can sit around the table and discuss the day's events or return to the privacy of your tent to relax. Throughout the night, a trek staff member is on duty as a security guard to ensure privacy and safety.
Ecological standards are followed including the use of a latrine tent, burying of all organic waste, transport of plastics back to an urban recycle facility, and no use of firewood when possible for cooking.
Mustang and Helambu are recommended full camping areas because of the shortage of lodges.
Guides and Porters: Many trekkers trek alone without guides or porters to save money. The convenience of numerous lodges and tea houses for overnight stays and food make this possible only in the popular trekking areas. Hiring a guide or porter may not be necessary for these areas, but their presence does lighten a trekker's load and prevent the occasional three-hour walk up the wrong trail. Nepal's most pressing need is employment. Guiding provides young people in rural areas needed income and a opportunity to practice English or other foreign language. A local guide can provide the trekker with an insight into the country and culture that he/she will likely miss trekking alone or only accompanied by other foreigners.
Many guides are part-time students and rely on seasonal guiding to help meet education costs. Guides and porters arranged through Nepal Study Treks are provided appropriate clothing for the trek and covered by accident insurance.
Preparation: Bring comfortable trekking shoes, light & warm jacket, hat, sun cream, sunglasses walking stick, dry food or snack food while trekking. Bring a pack or small duffel bag for clothes and personal effects for the porter to carry on the trek. Larger bags can be left at the hotel in Kathmandu or Pokhara to collect on return from the trek. We recommend that you can carry a small daypack for your camera, personal items, good flashlight, snacks, water bottle, etc. "Layering" is the expression used in selection of clothing suitable for mountain trekking.
It can be hot and sunny during the day particularly on uphill climbs when a T-Shirt is adequate but probably not sufficient protection from the sun if you're sensitive, a light cotton long sleeve shirt/blouse would be better. Evenings can be cold or windy. A "layered" combination T-Shirt, cotton flannel shirt and a jacket or sweater will probably be sufficient protection for most situations unless your trek takes you 3500 meters during trekking season.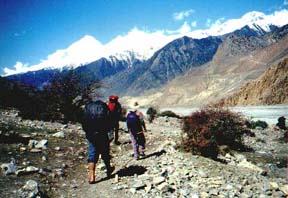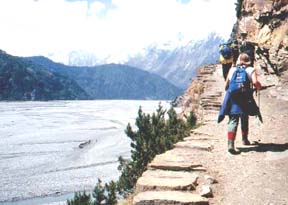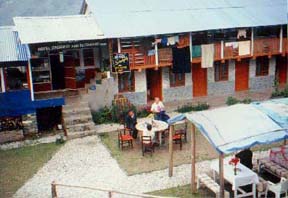 Classification of treks: We consider several criteria in rating treks Easy, Moderate and Strenuous.
Altitude: above 3,000 meters is considered Moderate, and above 4,000 meters is Strenuous.
Grade: Any day with uphill trek grades of 1000 meters is considered Moderate, and above 2000 meters Strenuous.
Time: Walking times of 3-5 hours is classified as Easy; 5-7 hours Moderate, or longer considered Strenuous.
Of course these are general criteria and your health and conditioning may play a more important role. If you're a regular walker of 2-3 hours a day including uphill walks and are in good health, our Strenuous trek will be Moderate for you, perhaps even Easy. If you are not in practice, our Moderate trek may be Strenuous for you.
Your health: Ask a doctor regarding vaccinations and medicines before travel to Nepal, and carry what you need in the way of medicines. Medicines are available in Nepal but not in remote areas. It's suggested that you have protection for Hepatitis A, Typhoid and Meningitis. First-aid medicines and dressings are available with guides. Although available in Kathmandu, it's recommended that travelers arrange trip insurance before travel to cover emergency rescue or medical expenses. Also, we recommend that visitors register with their country's embassy in Kathmandu prior to the trek. Some embassies (like the US Embassy) will facilitate emergency evacuation if a trekker is registered.
Nepal Visa: The single entry tourist visa can be obtained from the entry points of Nepal or from the Royal Nepalese diplomatic missions abroad by paying US$30 for 60 days stay in Nepal. For a double or multiple re-entry, an additional US$40 (for double entry) and US$60 (for multiple entries) is charged. (Double and multiple entry visas are required if you plan to leave Nepal during your stay to visit neighboring countries - like Tibet/Bhutan/India - and return to Nepal during the period for which the entry visa has been issued)
Climate: Preferred trekking months are October - early December, and February-April. Winter is generally dry when peak viewing is best, but nights drop below freezing in late November through February above 2000 meters. April/May can be hazy but occasional mountain storms and pre-monsoon rains will occasionally clear skies to provide fantastic morning views. Low altitudes are hot during these months. It is difficult to trek during monsoon rains between June and September, but possible on selected routes with good bridges and lodge facilities. However, mountain views are few and far between and leeches are troublesome on higher trekking routes. If you don't mind a daily application of salt or bug-off for the leeches, and the use of an umbrella or poncho for afternoon showers, the monsoon season provides the advantages of a lush green surrounding and you'll have the whole trekking route to yourself.
The Himalayas act as a rain shield for South Asian monsoon rains moving from the South. Trekking areas to the North of the Himals, like Mustang and the Northern Kali Gandaki Valley, are excellent for monsoon trekking during May - September. Tibet trips are also scheduled during these months.